The Corona crisis has mercilessly shown us how quickly and destructively our supposedly secure processes and daily routines can falter. Suddenly, in-house staff as well as external consultants drop out overnight - possibly with fatal consequences for the continuation of business operations and the availability of systems.
In cooperation with the partner Centrix Consulting, biX Consulting offers you an around-the-clock support for all relevant SAP systems and applications on working days from Monday to Friday (optionally also on weekends and public holidays). More than two dozen German- and English-speaking certified experts from both countries ("Follow-the-Sun-Principle") will support you at all times of the day and night on all questions and activities concerning your systems. You can reach our team either by telephone, e-mail or via Microsoft Teams. Besides this, our knowledge database and Q&A databases are available for you too.
We are currently offering support services for the following products and tools:
SAP BW/BO (versions 3.5 to 7.5 BW/4 HANA)
SAP Basis, On-premise and Cloud
SAP S/4 HANA
Further products and solutions are available on request.
Strong performance, simple process.
With our well-proven processes, we make the availability management of your SAP systems simple and transparent - from the first request to the final binding performance.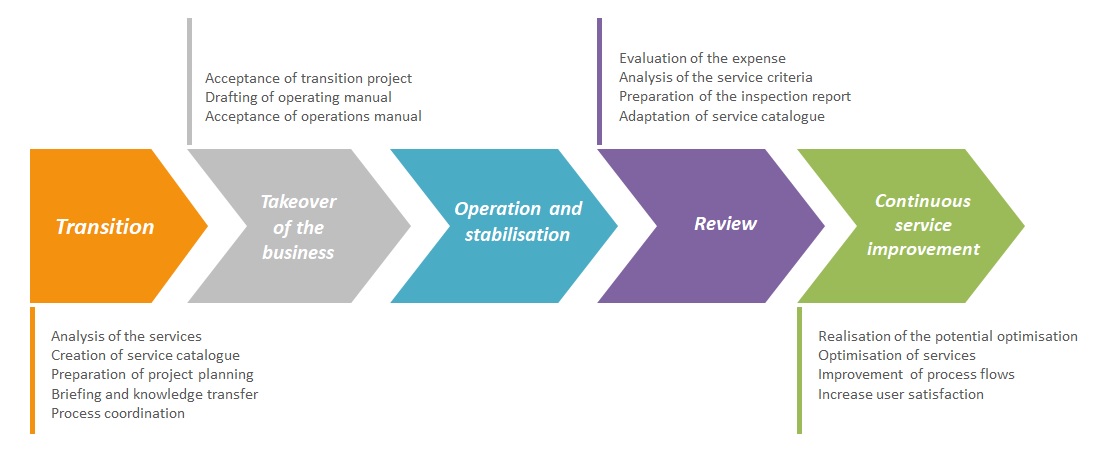 Individually tailored to you.
The support services can be individually tailored to your needs and business processes - regardless of whether you want to use the service permanently, only in the event of an escalation or temporarily, for example in the event of absences due to illness, accident or holidays.
During a short setup phase, all necessary aspects of the operation, such as access rights, tools that will be used, security-relevant criteria, privacy protection, e.g., are discussed and agreed upon. Within this process, all required coordination with the internal and external staff of your company is carried out in order to ensure a smooth process without confusion of competences and unclear responsibilities at a later stage.