BI Infrastructure Consulting
Business Intelligence (BI) applications should always be supported by a high-performance and efficient architecture via which it is scalable and can also be used for future requirements and tasks. biX Consulting advises you in the conception and development of modern BI solutions that unlock the business potential of your company data and meet the requirements for IT governance, data protection, data security, the possibility of agile development methods and many other aspects.
The determination of a powerful, modern and future-oriented BI architecture is very complex and must take into account the continuous expansion of further components, data sources, data formats, modeling methods and tasks (e.g. Self Service BI, Big Data, Machine Learning, Artificial Intelligence etc.). In addition to these technological aspects such as scalability, availability, maintainability and performance, organizational, technical, legal and economic criteria must also be taken into account, which can quickly lead to a balancing act and can overwhelm the IT department of a company.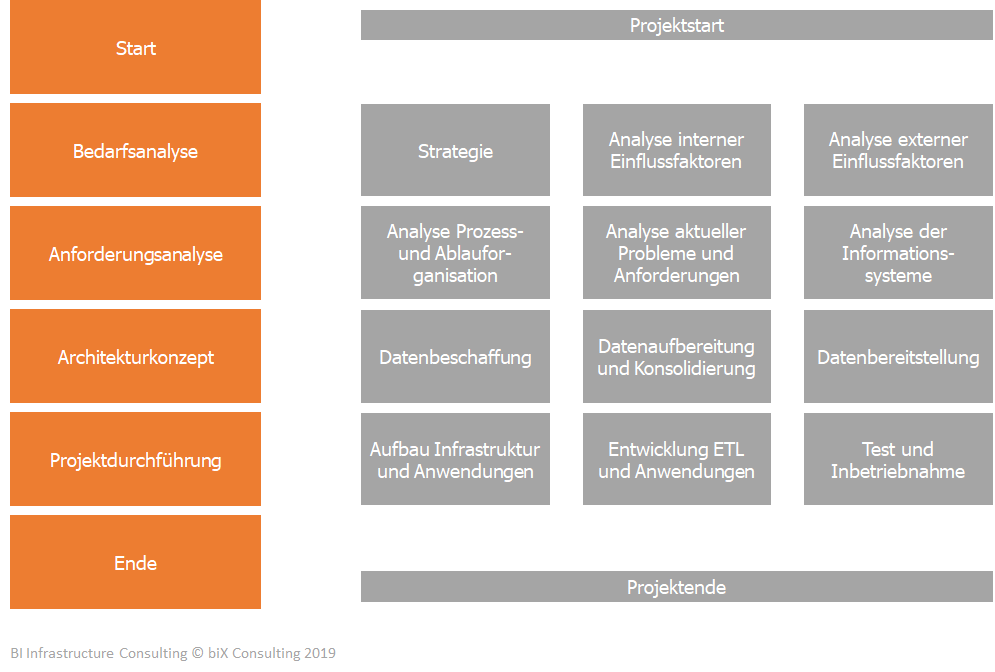 biX Consulting supports you with the experience from well over 100 projects and a team of experts that meets both the technological facets as well as the technical requirements and thus contributes to high productivity and a high return on investment of the BI solutions - permanently. Regardless of the manufacturer, we pursue a best-of-breed approach and implement solution architectures for our customers that will continue to make a strong contribution to opening up new business potential and optimizing business processes.
Our service portfolio ranges from the implementation of system reviews to the conception, development and commissioning of new architectures. A high level of expertise, powerful tools, a systematic approach and intensive cooperation with leading